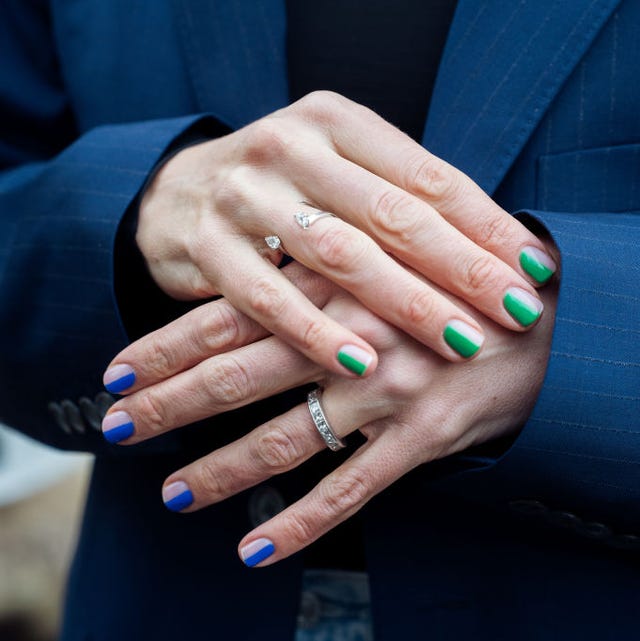 Raimonda KulikauskieneGetty Images
Even though it feels like the holidays just happened, newsflash: it'll be spring in two seconds. Somehow, January is (almost) over and we're already anxious about Valentine's Day lingerie and warm-weather fashion. Even though it seems humanly impossible that time is moving so fast, the silver lining is that the changing of seasons also means it's time to get a new manicure. Winter was all about glazed donut nails and French tips, but switch it up this season with bold colors and some nail art. Why not? Here, read all about the nine best spring nail trends you should use as inspo this spring (and beyond).
Advertisement – Continue Reading Below
According to a viral TikTok, a bright red manicure manifests romantic attention. After all, nothing says confidence like a bold color, right?
Classy and classic, the French manicure isn't going anywhere. If you want to add a bit of interest, use a shimmering top coat for Hailey Bieber-esque glazed nails.
Why pick one color when two will do? Embrace the split nail in a new, fun way by choosing different colors for each hand. You can make it even simpler by forgoing the nail art for a 30-minute mani.
Who says monochromatic manis are boring? Make black-and-white nails exciting by incorporating some wavy details. The best part? They automatically match every outfit.
This look can go so many ways: edgy, classic, or upscale chic. Accessories make all the difference, so swap in a skull ring for a moodier look or a signet ring for added elegance.
Embrace your inner wild child with a manicure that's as bold as you are. You can customize this look with as many or as few rhinestones as you'd like, depending on your level of glam.
Still thinking about Wednesday? An Addams family manicure is the easiest thing to achieve: two coats of your favorite black nail polish and a bad attitude, and you're done.
Sometimes, the best manicure you can get is…no manicure. Instead, opt for nail health with some cuticle oil and a good buffing.
Calling the color-coordinated! A matchy-matchy manicure is the perfect way to look done-up with very little effort. Pick a color you wear in your wardrobe and use it as your lacquer inspo.
Advertisement – Continue Reading Below